What Bangkok's Female Founders are Saying About Branding & Marketing
What Bangkok's female founders are saying about Branding & Marketing
Excerpts from Connecting Founders interviews
Sretsis is a Bangkok-based international fashion designer of women´s clothing, accessories and jewelry created by three sisters.
"We are a Thai company but we want to be recognized as an international brand. We have opened our flagship store in Tokyo and we want to push the brand to the next level. The difficult thing is that people want to work with us but at some point they want to move on to an international company because here we are still seen as just a Thai company and we are still small in comparison with the known international brands. So our challenge now is to attract people that would feel Sretsis is their last stop, not their first one. Just as for marketing, we need to retain customers, we also need to retain employees."
"We are updating everything this year – our website, our profile. It's really transitioning from the first phase to a new one where we want to take the company to a whole new level. We have always exported, at first through the showrooms and agencies that would sell our collections. Now we have our flagship store in Tokyo so we are doing more retail outside of Thailand and this is our new direction. We have also just launched an online store so we are really trying to expand through other channels." "What's next after Japan?" "We are not going anywhere for now besides Thailand and Japan. We want to make everything perfect."
"When it comes to marketing, there is a big difference between the first ten years and now. During the first ten years it was all about building our brand, creating something exciting for the market. But now we are not new anymore so it is about how to make sure we can maintain our clientele and how to distinguish ourselves from other young designers. We are now dealing with a different set of challenges. So for example, people in Thailand are captivated with social media and some businesses now sell on Instagram. We have to keep up with these sorts of things."
Atchara Burarak (aka Khun Pla), Iberry
iberry Homemade produces premium homemade ice-cream in Thailand since 1999. Its brand portfolio includes popular restaurants Rosniyom and Kub Kao Kub Pla.
"What is your biggest fear?" "That one day my brand might fade and not appeal to customers anymore. Trends in desserts come and go and there are a lot of more options available now so it's not easy to ensure your brand always stays fresh and relevant. You need to create new menus and update your stores look every so often. And of course you need to have a very strong product to start with".
"What was the most difficult part of setting up your own business?" "Getting people to know our brand, and the fact that we didn't have any business experience. When we launched Iberry, 16 years ago, there was no social media and we didn't have much money for marketing and promotion. So my strategy was to make our store look outstanding – very bright and colorful so passer-bys would be intrigued. And then one day one journalist walked in and it turned out to be someone from the Bangkok Post. He wrote an article on Iberry and following that I got a lot of customers, both locals and expats. It took me several months to be known." 
Bag Indeed is an online bag and luggage retailer.
"When I started early 2011, Facebook was already big in Thailand but not that many people used it to sell their products. And those that did, weren't very professional about it. They didn't use good pictures, had poor customer service, and would threaten customers to blacklist them if they didn't pay within a certain time frame. The packaging was not good either because the assumption at that time was that if you buy online to get cheaper prices, you can't expect much. But that has never been my style. Regardless of how cheap a bag was, I still packaged it nicely because I wanted my customer to have a really good shopping experience, to open the box and feel wowed. So that's how I stood out. Good prices, great pictures, beautiful packaging, and strong customer service."
"Marketing is quite easy if you can spend. The number of followers depends on your ad budget and sales will go up as a proportion of it. It's important for people that run online businesses to be very skilled at advertising and know how to use ads smartly. This is the heart of the business. The first few months of Bag Indeed I reached sales of 30 bags a day only through friends and their networks. At that time Facebook didn't limit the number of followers that could see my posts. But then I learned that by paying for ads I could expand my customer base so I started doing that and my business increased considerably. Now I know that if I don't boost a post, I won't sell much of that product. Every day I get a report on how much we spent on Facebook ads, how much we sold of those products, and what the payout is. This is how I control my business. My advice is to truly learn how to operate online ads and once you do, determine what level of sales you want to target and how much money you want to put in. 
Sirithip (Praew) Sripaisal, DA+PP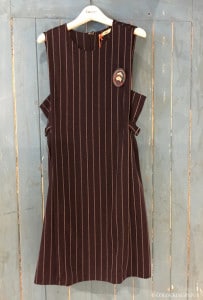 DA + PP creates vintage-inspired, limited-edition themed fashion collections for Gen Y fans.
"I started my brand – DA+PP – 4 years ago. It's part of the DAPPER umbrella, which my dad started over 35 years ago, but it's managed completely separately and captures a totally different market. DAPPER targets professionals 30 years and above that want to look neat and trendy. For us, it's 20 years and above and our clothes are more casual, youthful and fun, more street wear. I wanted to do something new and saw a gap in the market. At that time you basically either had the international brands – luxury ones or Zara and the like – and Thai designers that are very niche and tend to be quite expensive. Not much in between. I can't compete with Zara because their production is much faster, they have many more designers, and sell huge quantities. So I decided to start a new kind of fashion retail model that provides premium quality clothing that are reasonable, approachable, and affordable to the mass market. We said, 'Let's try in 1 or 2 stores and see how it goes'. Now we have 14 stores in and around Bangkok."
"You really have to study the market, your consumers, your brand, and your space very well. I can't be everywhere but I can be where there are the right people that want this kind of products and this stuff is not yet available to them. Let's say, if I were in Myanmar right now, I would fail but in 5 years I might be very successful. My target now is to expand to other Asian countries and in the future to the US, Europe, and Australia. In the US I want to target Asian Americans because there is no brand like this for them right now. They are buying things that are not designed for them. In Australia, same thing – there are so many first-generation Asians." "What makes these clothes more tailored to Asians?" "It's because they are more cheeky and fun. I would say Europeans have a more particular style, perhaps more sophisticated and cool for certain things. They most likely wouldn't wear the veggie sweater or the shirt with the little whale on it. This blue dress itself could perhaps be sold in more than one country but not so much with this captain pin on it. Asians would buy it just for that. They would be like, 'This is an extra effort, a cute thing; it's the captain that drives the boat when they travel'. Europeans would probably say 'What is this? Take that off.'"
Kotchakorn (Ollie) Techaphonphol, O-SPA International
O-SPA is a Bangkok-based producer of premium natural skincare solutions for the whole family. It exports to several Southeast Asian countries and China.
"In each country O-SPA exports to, we first target supermarkets. I have been told that selling in supermarkets is not good and that can damage my brand but I've always wanted to do things differently. I want everyone to experience the brand. In a luxury beauty store people can feel intimidated but in a supermarket you feel free and can smell the products as you please. If the products sell in supermarkets, it means the products work. The second step will be to add department stores because of the higher image attached to it."
"What's the biggest struggle on the Thai market?" "People rely heavily on the media and it's difficult to compete with other brands that can afford to spend more on marketing. Instead of spending in marketing and promotion, we put it in our products. We have very loyal customers. They are typically people that don't have much time, can spend a bit, are knowledgeable about products, and care for others."
Nhoo Matthews, Nhoo Matthews Atelier
Bangkok-based Fashion studio specialized in custom-made bridal and evening wear.
"When you start a business in Thailand, social networking is very important. You have to go out and see a lot of people and let people know about you. Getting to know the press and getting the press to like you is also something very important here. And it takes time and lots of marketing for people to recognize your brand. It's not a one-time effort. I am starting small and I know I have to focus on PR so I am planning a marketing campaign with celebrities wearing my creations to their events. I am building trust because investing in a good dress is an important decision to make and you need to feel you can trust the place."
Paveena Angsuvat McLean, Abode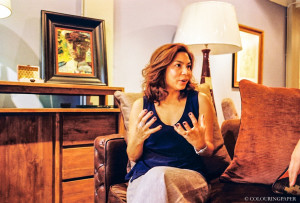 Abode sells handmade classic and contemporary wooden furniture with an east-meets-west look and feel.
"We built our brand through good products, good service, and focused marketing. You really got to know your customer – who they are, what they want. You need to have a very clear target. That's how you build your brand but it takes a long time. The only local media where we advertise is Guru magazine, which comes with the Bangkok Post every Friday. And I keep that because we get feedback from Guru all the time and our Thai customers all come from Guru. Brand creation is about you, your services, your quality, and the right price. And when people start believing in you and you get word of mouth marketing, then that's better than any other type of advertising because there is a trust factor in there".