Tips on Finding and Retaining Talent in Thailand
To attract talent you first have to find your story, clearly define your core values, your philosophy and the type of company culture you want to build. This way, you will know what kind of people are a good fit and you want to invite to be part of your story.
This is also what will help you retain talent and keep your employees engaged. Meeting their financial needs is not enough; it goes well beyond that.
You need to make sure that everyone lives and embodies your core values; that you invest in your staff; and that they see the value in what they do. In working with family, open communication and respect for each other's opinion is key.
These are the key take-aways from the 5th Women in Business Southeast Asia event on "How to Build a Great Team" on January 26th, 2016 at the US Embassy. A panel of three women entrepreneurs – Caroline Link of B. Grimm & Co., a large industrial conglomerate, Kim Chongsatitwatana of Nanmeebooks, a leading publisher and learning service provider, and Nicky Surapaitoon of Sendit, a startup incubator focused on on-demand delivery services part of The Ascend Group– shared their experiences on finding and retaining talent in Thailand. Shannon Kalaynamitr of MOXY, wrapped up the event and also shared her insights from the e-commerce and tech startup sectors.
Thailand has a very tight labor market with official unemployment rates of under 1% and, according to government and academic sources, one of the highest shortages of skilled labor throughout the ASEAN region. Not surprisingly, how to attract and retain qualified employees is one of the top concerns for virtually any business in the country. The 5th Women in Business event discussed what strategies panellists found most successful in managing their human resources, and what they have found most challenging. How to work effectively with immediate family members and how to motivate and retain external senior management in family businesses were also among the issues discussed.
"We believe in our commercial contribution, our cultural contribution, as well as our social and environment contribution", said Caroline Link. "We have a very strong core of values and a deep sense of purpose and this is our driving force. We believe this is what attracts people to come to B. Grimm and what keeps them with us. We need to do more than meeting basic financial needs to attract and retain staff. It's a competitive business and you cannot compete with others only based on compensation. A strong philosophy is what differentiates you from others."
Nanmeebooks was founded by Kim Chongsatitwatana's mother 24 years ago. "My mom wanted to build a society that asks questions and she felt that books can really change the way people think. We believe in hands-on education and personalized learning and as such, we need passionate people, determined, open-minded and willing to learn, and with interdisciplinary skills. 68% of our staff and 73% of our management team are women", shared Kim.
"Salaries in the start-up world are not very attractive so you have to offer other perks, such as a cool office, a fun and young environment, and the excitement of being part of something really new", said Nicky Surapaitoon of Sendit. "I look for people that can complement each other and deliver on time. And that can be really flexible because in the tech start-up world you don't have clear job descriptions."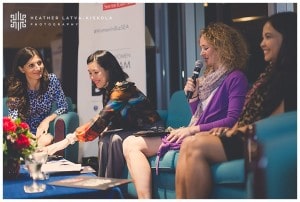 "We have different HR initiatives and all employees have a chance to be part of our community work. We have a good work-life balance and insist that everyone follows us. From a female perspective this is highly appreciated because you can fulfill different roles – be a professional, a wife, a mother. This is the key to attract good people", said Caroline Link. "It's very important to be really committed to each of your staff. A big reason people stay with you is because you believe in them and you spend time training them. Caring about them as people not just employees is what makes a big difference. It's a person-to-person commitment."
Nanmeebooks has recently repositioned itself from being a publisher to a learning service provider and this has put some pressure on their human resources. "We had to ask our team to get out of their comfort zones and acquire new skills", said Kim Chongsatitwatana. "We usually promote from within the organization, which is both good and challenging. It is good because they already know the company and our philosophy but it's also challenging because we really need to train them up."
"It's important that we make sure our employees are passionate about their job and they never stop learning. We often have workshops and staff sharing sessions to discuss something they have learned or experienced. We also encourage them to go to book fairs and events to remind themselves why they are doing what they do and rekindle their passion", added Kim.
Nicky Surapaitoon: "In the tech sector people typically believe in "hiring slowly and firing fast" although some companies actually prefer "hiring fast, firing fast". The sector is new and moves very fast and if you try something and it didn't work, that's ok and you need to move on and do something else. Investors expect companies to scale very fast so you can't hang on for too long if things are not working. It's tough but it has to be this way."
Working with Family Members
Both Caroline Link and Kim Chongsatitwatana work with immediate family members – Caroline with her father and Kim with her mother – so we asked what they found most appealing and most challenging about blending family and business relationships.
"My experience has been a very good one", said Caroline. "I have always had a good relationship with my dad and joining the family business was entirely my decision, I never felt pressured to do so. Still, coming into the business was difficult. I needed to learn a lot of things and put a lot of pressure on myself because I wanted to please my father not only as my boss but also as my father. Whenever we disagreed on something, we took time to think about it and always came back having learned something because we both expressed our opinion. There is much that people can learn from each other if they have a good relationship and communication."
Kim's experience was not so smooth initially. "It was really hard to work with my mom at first because we both have strong personalities and are very direct. Also, I went to boarding school so we didn't really know each other that well. Despite of that one of the strongest points of working with my mom is that I know she always has my back. She is very open-minded and very forward thinking and she lets me do my own things and make my mistakes and tries to support me emotionally and business-wise."
Communication is key. As you grow in the business and get more responsibilities, keep reporting back and involving your family so that they feel they are still in charge and have a place in the business because otherwise they might feel threatened or not fully valued.