PRESS RELEASE: Connecting Founders Co., Ltd. wins UN Women Award for Advancing a Gender-Responsive Marketplace
Date: November 1st, 2021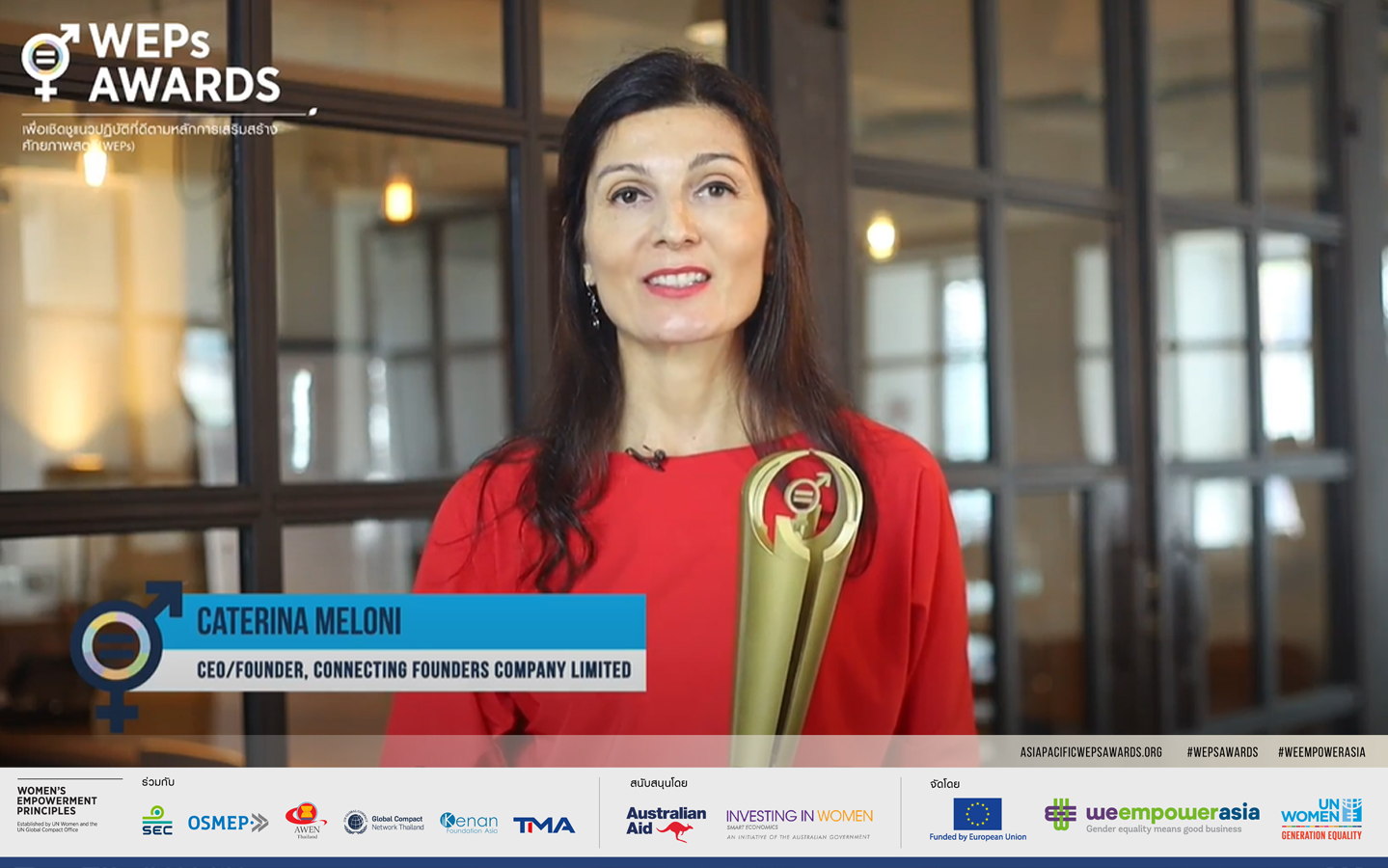 BANGKOK, Thailand— Connecting Founders Co., Ltd. was recognized in the first ever stand-alone UN Women 2021 Thailand WEPs Awards, winning the top prize in the Gender-Responsive Marketplace Category during a virtual ceremony held on October 21.
"The crux of our work at Connecting Founders is advancing and integrating gender diversity and inclusion in the business sector. Our services are all about supporting companies and providing tangible tools for businesses to achieve that as they scale."
Women's economic empowerment is at the very core of our organization. Our mission is to create a business sector that is more responsive to different needs and more inclusive in resource allocation. Whether we are supporting women to scale up their businesses, advance in their careers, or become first time investors – giving women more voice and decision-making power is critical to building healthy businesses and sustainable economies.
The WEPs Awards are an annual series of events by WeEmpowerAsia, a programme funded by and in partnership with the European Union (EU). UN Women organized the Thailand WEPs Awards in collaboration with the SEC, the Office of Small and Medium Enterprises Promotion (OSMEP), the ASEAN Women Entrepreneurs Network (AWEN), and key supporters, including the Thailand Management Association (TMA), the Global Compact Network Thailand (GCNT), and the Kenan Foundation Asia. The Awards were promoted in collaboration with the European Association for Business and Commerce (EABC) and the Franco-Thai Chamber of Commerce (FTCC).
The Awards recognized outstanding efforts to promote gender equality in the private sector under six  categories: Leadership Commitment, Gender-Inclusive Workplace, Gender-Responsive Marketplace, Community Engagement and Partnerships, Transparency and Reporting, and Youth Leadership. This year, three SME Awards were also given to small and medium-sized enterprises.
The Gender-Responsive Marketplace category recognized companies that embrace gender inclusivity and gender responsiveness across their value chains from sourcing materials and services to supporting women entrepreneurs through capacity-building and market access opportunities. Firms selected for this award promote supplier diversity, gender-inclusive distribution and sale, and gender-responsive marketing and advertising.
As a winner of the Gender- Responsive Marketplace Category, our company has also been nominated to progress to the Regional Asia-Pacific WEPs Awards set to be held on November 18 along with laureates from other countries.
The Awards place a spotlight on companies and leaders behind initiatives and practices that advance gender inclusivity and women's empowerment in the business sector through the Women's Empowerment Principles (WEPs). Today, over 5,600 companies from around the world have signed up to show their commitment to foster business practices that promote gender equality and women's empowerment through the WEPs , including more than 1,500 from Asia-Pacific. Connecting Founders Co., Ltd. is now a WEPs signatory too.
For more information, please see the official press release from the UN Women 2021 Thailand Women's Empowerment Principles Awards ceremony:
https://asiapacific.unwomen.org/en/news-and-events/stories/2021/10/seven-thai-firms-win-award-for-gender-inclusivity-from-un-women-and-eu
ABOUT Connecting Founders
Connecting Founders is an advisory services firm that works with businesses to help them scale efficiently and integrate gender and diversity in their business models. For more information, visit https://connectingfounders.com/
About WeEmpowerAsia
WeEmpowerAsia is a UN Women programme funded by and in partnership with the European Union that seeks to increase the number of women who lead and participate in business in China, India, Indonesia, Malaysia, the Philippines, Thailand and Viet Nam. For more information, visit http://weempowerasia.org.