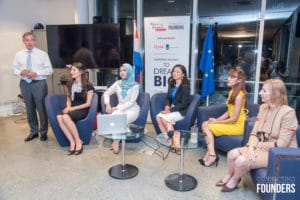 Opened by his Excellency, Mr. Karel Hartogh, Ambassador of the Kingdom of the Netherlands to Thailand , we discussed Marketing for Start-ups – how to craft a killer marketing strategy on a budget with: Pattamon Mekavarakul, Vice President of Cape Dara Resort; Karin Lohitnavy, Founder of MIDAS PR; and Abir Abdul Rahim and Sarah Chen, co-directors of Asia Women Circle (Lean In Malaysia).
Our speakers shared tons of tips and practical advice from their personal experience building 5-star resort Cape Dara and Lean In Malaysia, and MIDAS' many years of experience supporting Thai and international companies communicate with success. Presentations are available here.
Welcoming us to the Dutch Embassy, Ambassador Hartog expressed his support for the event and the importance of sharing experiences and supporting each other to see more women entrepreneurs succeed it and make it big. When that happens, as a society, we all benefit from it.
"Promoting female entrepreneurship is a key priority of the Dutch government. The position of women in Thailand is very strong. Half of entrepreneurs are women; Thailand has the highest number of women CEOs in the world, and Thai women were the first in Asia to get the right to vote in 1932. But it remains a man's society in many ways and you have to work twice as hard to reach the highest levels – regardless of whether you are self-made or are born into a business family. I commend you for sharing your knowledge and your experience and for supporting other women that are still at the beginning of the journey." – Ambassador Hartogh
1. You need a powerful brand message.
Do your market research and figure out what is the problem that you want to solve – why you do what you do – and craft a unique, powerful story that will connect with your audience.
"Our problem was that too many women drop out of the workforce in Malaysia and never come back. We wanted to make sure that women make informed choices about what they can do. It's important that our message is in line with the culture and does not touch sensitive issues" – Abir Abdul Rahim of Lean In Malaysia
"We tell our story as if Cape Dara was a woman, a mother diva that speaks of Pattaya in the old days" – Pattamon Mekavarakul of Cape Dara Resort
2.

Product quality is the basis of everything.
"Word of mouth is the most effective media and the cheapest one. So if people use your product and are satisfied with it, they will brag about it – they will tell at least 4 people. If they don't like it they will tell about 9 people and each of the 9 people will tell another 4 people. Now with social media, it goes to thousands of people very quickly. So you can lose a lot of potential customers just because of a negative review." – Pattamon Mekavarakul of Cape Dara Resort
"I always tell every client that comes on board that PR is a team effort. We help you communicate the message but you also need to walk the talk. For example, if we get people to come in to your hotel but the service is bad, they are not coming back. The PR can be as god as it gets but if the product is not good, people are not going to use it anymore." – Karin Lohitnavy, MIDAS PR
3. For Marketing and PR to be effective, you need to pay attention to every aspect of your brand image.
"We have to play with the 5 senses – hearing, sight, touch, smell, and taste. The sight must be beautiful and appealing; the smell needs to be very pleasant so we have our signature smell, which is vanilla and mint. My staff are also trained to treat everyone as if they were relatives to make sure they will be considerate and concerned about the wellbeing of all our guests" – Pattamon Mekavarakul of Cape Dara Resort
4. There is a lot you can do at no or little cost.
Start with Family, Friends, Acquaintances. "We looked at our strengths and weaknesses. Our weakness was that we didn't have financial resources. Our strength is that we were very well networked. We knew lots of people and that's how we started" – Sarah Chen of Lean In Malaysia
Look for Brand Ambassadors & third party endorsement – people who can talk highly of your products or services. Nowadays, people trust bloggers less than in the past because they know that some get paid for their reviews but a good review from a well-known blogger is still very relevant.
"We sent messages to celebrities and tv shows on Instagram to invite them to shoot at our hotel at no charge. We had 8 drama series shot at Cape Data and that brought us a lot of people and magazines wanting to feature the resort" – Pattamon Mekavarakul of Cape Dara Resort
"Before the important thing was how many print articles you get featured on. Today it's about influence: it's the key opinion leaders; it's the bloggers. They count the most. Brand ambassadors are very important. You don't need to spend money on advertising, these opinion leaders talk for you." Karin Lohitnavy, MIDAS PR
Co-promotion & Bartering. To create brand awareness among a large number of people in a short period of time, one way is to target group databases through credit card companies, member loyalty cards, hospitals, etc. All 92-3major malls in Thailand have member loyalty cards – for regular users and "VIP users". Bartering – paying with some of your products rather than cash – is a well-accepted way to pay for advertising. Expect quite a bit of negotiation.
5. Engage your customers on social media and don't over commercialize your feed.
Social media is the bulk of most small businesses' marketing strategies because it's not expensive, everyone uses it, and it can reach a large audience – domestically and internationally. A few rules to make the most out of it:
Engage your customers. It's by engaging people that you get real followers. Content is key.
Videos are really important. Images and videos are more important than words because words take a long time whereas videos are quick and fun. If the message in a video is clear, you can understand it right away.
Don't oversell. "Your goal is to sell but customers don't want to hear that all the time so your feed should be a mix of promotion – the hard sell – and highlighting the beauty/features of your product – the soft sell".
6. There are many PR tools to choose from.
Roadshows, Booths in malls, Promotional Events, Press visits, etc.
Press releases are still relevant in Southeast Asia but need to be shorter and contain hyperlinks.
If you have already made it – press conferences, feature in big name media such as Tatler, Prestige, etc.
7. You can do a lot of PR on your own but once you pass a certain threshold, you'll likely need help from professionals
8. What to expect from PR:
Need to walk the talk and make sure your product/service is good. If you are experiencing an issue, it's better to be honest. Everyone can make a mistake but you need to be honest about it.
Be patient – don't expect to become an overnight success
"PR is like a snowball. The more you roll it, the bigger it gets. It starts small but as it grows, you get more exposure." Karin Lohitnavy, 
MIDAS PR