Is Exporting a Good Strategy for my Business?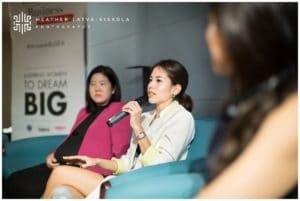 Sirithip (Praew) Sripaisal
Kannika (Bua) Soonthornyankit
Bangkok, 23 Feb 2016: Why, when, and how to export is what we discussed with 3 Bangkok women entrepreneurs at the 5th Women in Business Southeast Asia event in Bangkok. Their businesses export throughout Southeast Asia, are expanding fast, and are reaching well beyond their region to reach Korea, Maldives, Ivory Coast, and soon Europe, Australia, and South Africa. Two of the three businesses were founded as recently as 2011.
Who are they?
Sirithip Sripaisal or Praew is the founder and brand director of DA+PP, a clothing brand focused on modern street wear for millennials, which was created in 2011 and falls under the Dapper umbrella, an established apparel company founded by Praew's parents close to 40 years ago.
Kotchakorn Techaphonphol or Ollie is the founder and managing director at O-SPA International, a social enterprise that makes premium natural skincare solutions.
Kannika Soonthornyankit or Bua is the Business Development Director of Kidsplanet, a children's clothing company established by Bua's father in 2004 and built upon a garment factory inherited by her grandmother.
O-SPA International, as the name suggests, was set on expanding outside of Thailand since the beginning. DA+PP and Kidsplanet began exporting to the region quite quickly as well both because of the appeal of their products outside of Thailand and as a strategy to lower costs and diversify risks. 'To keep our retail prices this low we need volume and we don't want to cannibalize ourselves in Thailand with too many locations close by so going abroad was a natural strategy for us', said Praew Sripaisal of DA+PP.
Studying the market
As with any business, you need to study your target market and its characteristics. 'You have to be able to answer these two questions: 1) who is going to buy your stuff; and 2) why?' explained Praew Sripaisal of DA+PP. Even neighboring countries with similar cultures might have considerable differences when it comes to color or style preferences. For example, 'People don't like to buy orange clothes in Myanmar because they see it as a color for monks and Singaporeans don't like green much', said Bua Soonthornyankit of Kidsplanet.
Finding the right distributor
This is the possibly the most challenging element when preparing to export, according to our speakers. It can take a long time and a fair amount of trial and errors.
It's crucial to find the right partner that really understands your business, is aligned with your vision and goals, and is willing to grow with you. 'If it's a good partner that understands you brand, they will treasure it and take care of it as if it was their own'' said Praew Sripaisal of DA+PP. 'It's important to build and cultivate the relationship with your distributors. We let them know from the start that we don't want to have many representatives per country. Having a sole distributor is very important because then you are both focused on building the brand. For many of the smaller businesses it might be better to deal with a buyer of similar size rather than with big department stores that try to squeeze you to death."
'Screen potential distributors very carefully to make sure they aligned with your values and beliefs', said Ollie Techaphonpol of O-SPA. 'Buyers gave us their list of distributors and we had to contact one by one until we found the right one for us in each country. Before we sign with any distributor, we ask them to submit a plan detailing what channels they use and how much they are planning to invest'.
To build a strong relationship with distributors, you need to invest time and energy and be supportive throughout the process. Distributors sell your products in other countries so they need to follow your marketing and product placement guidelines. "The product is sold as a package – how it looks, where it is positioned, where it is next to, etc.", said Praew Sripaisal of DA+PP. "What has worked for me in the past is to provide all of the artwork and marketing design but to ask them how they are willing to help out to promote the brand locally. First, they would know better how to promote the brand in their markets and, most importantly, it is a good way to judge whether they are serious about your products. If they are willing to invest money in your products, then it's probably going to work out."
How to find distributors?
Each country is different and might require a different strategy. DA+PP found their distributors for Hong Kong and China at tradeshows. For others countries, they were approached by distributors who saw and liked their stores.
The case of O-SPA was quite different. They found buyers first and distributors second. Ollie Techaphonphol, O-SPA's founder, said that she immediately saw Singapore as a strong potential market so packed a suitcase full of product samples and flew there. With no appointment nor reference, she called all major retailers to showcase her products. On a follow-up trip, she spent two weeks marketing and selling her products at a Thai fair organized by Japanese retailer Isetan and was able to impress Isetan managers so much that they decided to not only carry her products but also recommend her to other Isetan in the region.
Kidsplanet's exporting into Myanmar started with a Burmese customer that started buying their products in Thailand in 2010 to re-sell in Myanmar. First time, she bought two dozen outfits for about Bath 2000 (about $60). She sold everything in a day and a half so the following time she bought a bit more and again, sold it very quickly. After 6 months she was ready to open a store in Myanmar to retail Kidsplanet clothes and now, 6 years later, she is about to open her 21st store.
Tradeshows/Social Media/ E-commerce: Going to a trade show to find potential buyers or distributors is not an option for everyone though, as pointed out by one of the participants. Trade shows can be expensive and often ends up in little traction for smaller brands as larger and more established names tend to steal the show.
Leveraging social media, such as Facebook, Instagram, WeChat, and others, as well as e-commerce platforms such as Alibaba and Zalora can be an easier and sometimes less expensive option. DA+PP is indeed using Zalora to sell her products in Hong Kong. This however comes with strict requirements, such as the need to build a warehouse locally to have goods delivered within 3 days from order, a minimum number of products on offer, new products posted every so often, etc. More importantly, it requires a very careful management of inventory as products are typically sold on consignment.
Using social media is inexpensive and easy to use but products that are easy to copy and come from brands that are not yet well-established internationally are particularly vulnerable to being copied so that's a considerable risk to take into account when deciding to go this route.
Keep constant communication with your partners and track customer feedback constantly
To be able to sell either domestically or internationally, you need to respond to customer demand quickly and effectively. This means constantly tracking customer feedback to analyze trends and to be able to anticipate needs. "Focus first on your existing customers and make sure those are served well before looking for new ones. If you have a low rate of repeat customers, you need to take a good look at your business and try to find the problem", said Bua Soonthornyankit of Kidsplanet. Similarly, keep a very close communications with your buyers and distributors because trends come and go and new competitors come in all the time. You have to invest a lot of time and energy into keeping a regular dialogue and building a strong relationship.
Focus first on "easy markets"
Some countries, such as Maldives and Singapore, import all kinds of products because they manufacture very little. They are very competitive to get into but are still relatively easier than countries, such as Japan, which are highly regulated, very strict about the quality of the products they let in, tend to follow slow processes, and speak little English. Japan is considered a very hard country to penetrate because it already has very high-quality, well-designed products. Thai businesses' competitive edge in this case is the lower production prices.
Know that it's going to be tough
Exporting is hard work. Everything has to be according to proper international standards and you are constantly competing against larger brands. 'You have to act big even though you are small – Act like a tiger even though you are just a cat', said Ollie Techaphonpol.
Persevere and be patient but know when to pull the plug
You need to be know how much you are willing to put in and how much you are willing to lose. If you have reached that and you see no results yet, it's time to call it quits and re-focus.