From Good to Great Teams – The Power of Motivation & Diversity
KFC / YUM Restaurants International
14 September 2016 – The 4th session of the second Women in Business series focused on building a great team and on tips on finding and retaining talent. It was hosted at the Embassy of The Netherlands in Bangkok.
K. Waewkanee Assoratgoon (Poom), managing director of KFC Thailand and Yum! Foods Thailand shared her experience of building a corporate culture that puts people first and focuses on diversity. Marie Lucchini, a global certified executive coach and founder of Coach Executives International Co. Ltd., discussed why motivation is so important as a driver of performance and profitability and how you can measure it. (Click here for her presentation)
Diversity is a key pillar at KFC Thailand and it's embedded in its corporate culture.
"Culture drives diversity. The real reason why we have strong diversity at Yum! is because of our culture. The first principle of our culture is "Believe in all people". We trust in positive intentions and we believe that everyone has the potential to make a difference. No one wakes up in the morning with the intention to do a lousy job"
In terms of gender diversity, KFC Thailand has 66% female at mid-level managers and 33% at director level. Two things were mentioned a possible reasons for this drop. One, women often "lean out" and leave or avoid more responsibilities for fear of conflict with their family responsibilities. Two, women tend to be more interested in their functional role and not as much in the overall business role. K. Poom noted that her willingness to step up whenever there was a need was what got her top management's attention over the years and eventually led to her becoming the general manager in 2013.
"I joined YUM about 15 years ago, I started in marketing for the KFC brand and then for Pizza hut brand and over the years I have moved around the company and whenever there was no functioning leader I raised my hand up. I was not the expert in those areas but the fact that I raised my hand got me the attention of top management and showed them that they could rely on me to help out when there was a need."
Do you know what motivates people in your company?
"Motivation is often not much understood but it is extremely important. Lack of motivation has a cost. Companies with a highly engaged workforce outperform their peers with a non-engaged workforce by 147%", says Marie Lucchini.
Disengagement is very high all over the world. Worldwide, 87% of employees are not engaged actively. In Thailand, 84% of employees are not engaged and 2% are actively disengaged, leaving only 14% who are actively engaged.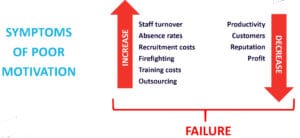 What is motivation and why is it so important?
"Motivation is energy. It's the fuel that you put in the car. If you have no fuel, you don't go anywhere."
Motivation determines performance. There are people that have tremendous skills but are just not engaged. They are not taking advantage of all the skills, all the competencies that they could deploy to do their job.
Performance = Skills x Motivation.
If you have skills and motivation, then you have a commitment. And if you have a commitment, you have performance. Performance leads to productivity, which in turn leads to profits.
Most companies have career development plans and skills sets development plans but very have a strategy for motivation. Most people are motivated by achievement, growth, or relationships. As you build your team, it's important to know what motivates people. Marie works with Motivational Maps ®, a very powerful and unique tool, to map individuals, teams and even entire companies. This gives a profile of who is in each team and what motivates them to make sure that their tasks and responsibilities are in line with their drivers – that they are doing what they want to do, what motivates them.
Different people need different things. If you try to understand what kinds of people you have in your teams, then you can work on complementing them as you hire new talent in order to achieve diversity. For example, if you have a team led by growth then you would want to have someone completely different, who is going to be led by something else because she'll bring added value to your team.
Many companies do not take the time to assess job candidates sufficiently. One interview is not sufficient to know someone. Personality tests help get to know a candidate better but it's important to see if that person fits with your team and the specific job.
Have a proper induction. Many companies don't have an induction policy and procedures but it's unrealistic to expect that your staff will perform well if you don't give them the right support from the start.
Make sure your staff know the company's goals. While not everyone in a company is involved in crafting the strategy and identifying their vision, it's important that each employee knows what the company is about and trying to achieve. They also need to know how their role is contributing to achieving these goals.
Be authentic. Whether your company is big or small, it's very important that you are authentic and make an effort into connecting with your staff and acknowledge and reward their contribution.
Know your staff. It's the manager's role to understand who they are and what they need, and give them what they need to boost their performance and job satisfaction.
It's important to structure organizations in such a way that staff can move around and continue learning new skills rather than keeping someone in the same function for many years. "3 years is my benchmark", said K. Poom. "After that, people should be able to move to a new position".
"Overall, job security is very important in Thailand and older people put more emphasis on job security and on relationship and collectivity. Millennials tend to want fast results and they are more individualistic." K. Poom
"Millennials are very much motivated by either growth or creation. They look for freedom, recognition, engagement, and ownership. They are risk-friendly while the older generation is looking for more security and the group environment." Marie
Money is not a motivator. Tools such as money, health benefits, cars, flexibility contribute to motivation and they help finding talent but are not a sufficient retention tool. 60% of people that were offered money once they announce that they wanted to leave a company do leave 6 months later.