Female Founders Raising Capital: Know Your Business and Bring Confidence
Within the Asia-Pacific, Thailand's food and beverage industry has historically been one of the strongest and most competitive in the region. The country is currently ranked 9th largest globally, and with its annual growth of 5%, it is expected to claim 6th by 2026. Renowned as the 'Kitchen of the World", Thailand's F&B has helped drive economic development through the value it adds to the agricultural and industrial supply chain, generating about 6% of the country's GDP.  
With consumers globally becoming more health conscious and focusing on nutritional foods, Thailand is seeing a boom of plant-based meat.  The alternative meat market is currently growing at 2-10 percent per year with growth projected to reach 10-35 percent per year, and the sector's value reaching U.S. $1.5 billion in 2024. 
The increasing demand has prompted an exciting opportunity for food innovation and new players to enter the industry ranging from startups to major manufacturers. As the competition is growing fierce, small and medium-sized businesses are finding ways to boost product uptake and enhance their chances in the market.  
To better understand how women entrepreneurs navigate the highly competitive industry and access capital, Connecting Founders discussed with Kanwra Tanachotevorapong (Minnie) who shared her journey raising capital. 
"Know Your Business and Bring Confidence"  — Kanwra (Minnie) Tanachotevorapong, Founder and CEO, More Meat  
Most people who know Minnie, Kanwra Tanachotevorapong, would tell you about her bright and bubbly personality. But in the business world, Minnie is a goal-driven and confident first-time founder and CEO of More Meat.  
More Meat is a plant-based startup in Thailand specializing in creating functional plant-based proteins using innovative protein modification technology and bioactive ingredients such as plants and fungi. The company is committed to all ingredients being environmentally friendly and a zero-waste production process.  
Off the runway 
From her time as a flight attendant, Minnie noticed her health worsening and realized that diet was the main problem. She started exploring healthier alternatives and discovered an array of plant-based food available in supermarkets in several countries she visited. The positive changes on her health have sparked her interest in the plant-based industry.  
At first, Minnie looked into importing and distributing plant-based meat, but her research showed that western-style plant-based meat was already widely available in the Thai market. Instead, she shifted to producing her own plant-based products to better serve local customers. 
Minnie spent 2019 on research and development with the support of the National Innovation Agency, under the Thai government, who helped develop the More Meat prototype and granted initial funding.  
 "Deciding to go with Thai researchers instead of going abroad has been one of the best decisions", Minnie said. Using locally farmed splitgill mushroom from Songkhla province as the main ingredient not only suits the local taste, but also helps the local farmers place their products at a fair price.  
Where she met her investor 
More Meat launched in 2020 as a B2B enterprise serving restaurants and hotels. As the sector was hit hard by the pandemic, Minnie decided to join a pre-seed incubator program 'Space F' — founded and supported by some of the biggest names in the Southeast Asian food industry — to learn how to build a new business and raise capital. Minnie received mentoring, pitch training, and finance sessions. But most importantly, she met her now investor who helped push More Meat into retail.  
"We met on Demo Day and really hit it off because we share the same values and our visions are aligned", Minnie explained. From then on, an attendee at Demo Day became Minnie's exclusive distributor, strategic partner, and now an investor.  
Demo days are a great opportunity for small teams that are tight on time to pitch to many investors at the same time, instead of individually, and to connect with like-minded entrepreneurs and forge potential partnership. 
On to the next runway  
More Meat is among the 15 early-stage startups selected by Big Idea Venture, a US-based accelerator program, to join its New Protein Fund dedicated to early-stage investments in alternative protein products, ingredients, and technologies. Here Minnie has an opportunity to meet with international investors, reach out to potential partners in the food business, and hopefully raise capital.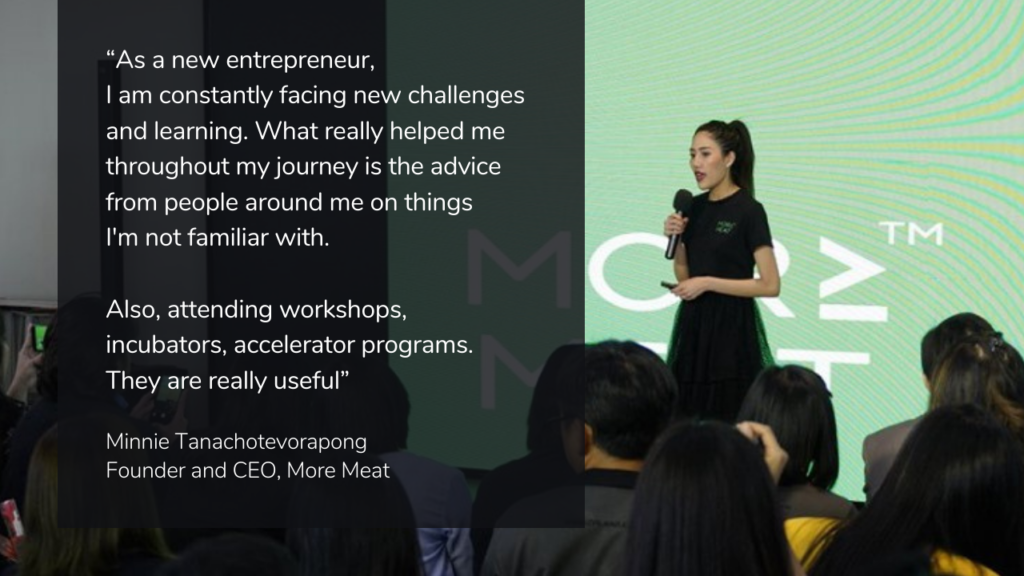 In early 2022, Minnie launched a USD 1 million fundraising to add more products, build a larger team, and expand to the international market.   Minnie explained that she prefers working with investors who understand her missions and give her more freedom in running the business. "VCs are really focused on getting profit returns in a short period of time, which is impossible for the food industry that is normally asset heavy", said Minnie, "that's why we focus more on investors who don't need fast return and are able to help us connect with more networks". 
Watch: Minnie's pitch at Space-F Accelerator Demo Day
As a Female Founder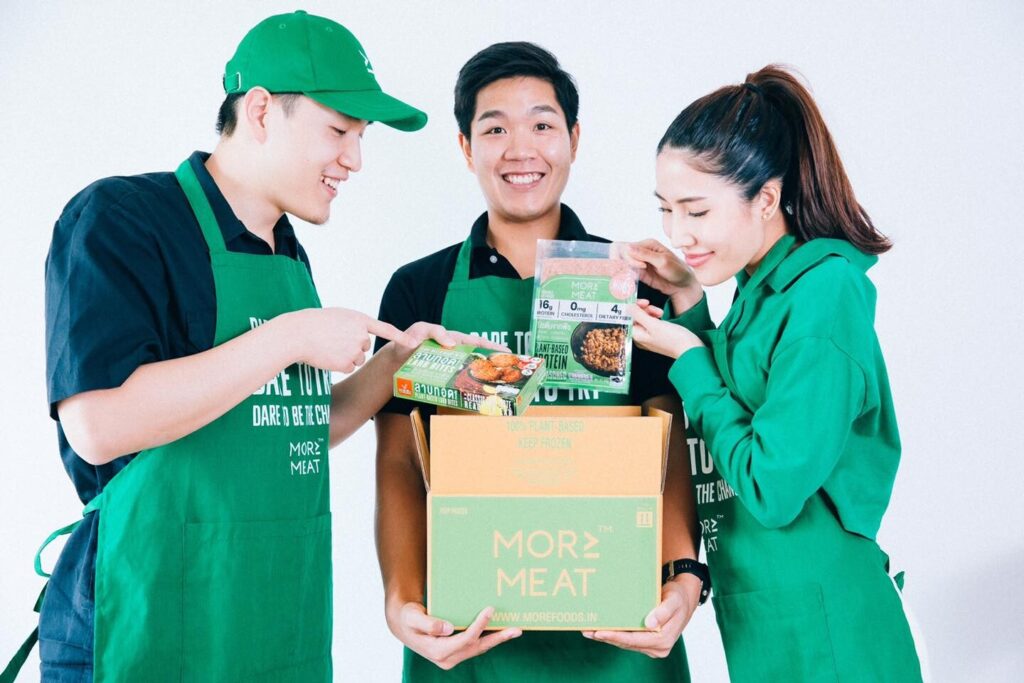 As the youngest among her co-founders – who are both her brothers, it often comes as a surprise to others that Minnie is the CEO while her brothers look after marketing and operations. She admits that as a first-time entrepreneur, she was initially quite shy to pitch to investors. But lots of practice and successfully securing investment has boosted her confidence in running a business. 
Being young and new to the highly competitive industry can be challenging as big-name corporates dominate the market and can overshadow small businesses, such as More Meat, Minnie reflected. But instead of trying to compete against the big companies, Minnie tries to see them as potential partners or allies rather than competitors since they have different goals, visions, and products: "Don't let big players bring you down because you have your own uniqueness that makes you stronger and sets you apart."