Business Failure & How to Learn from It
Artima Suraphongchai (Kimmy)
A packed room of entrepreneurs and professionals ditched office parties and other end-of-the-year festivities around Bangkok to listen to three female founders talk openly about their experiences of business failures at the 3rd Women in Business Southeast Asia event on December 17th, 2015.
Research shows that women tend to fear failure more than men and this acts as a real deterrent. It stops many women from either setting up their own business or from growing them to their potential. This is why we felt it was important to tackle this topic. And while there is a lot of pressure everywhere to just talk about successes, the truth is that failure is a reality for many entrepreneurs. There are many stories of failure and lots that we can learn from them. So much so that a network focused entirely on events discussing failure has actually emerged out of Mexico a few years ago and grown to 100 cities around the world. We essentially put together an all-female version of it.
We invited three women entrepreneurs to share their experiences. Kalaya Kovidvisith, co-founder of FabCafe Bangkok, a digital fabrication café that doubles up as a local creative community for people to gather, mingle and connect, took us through the challenges of her previous venture, FabLab, which eventually had to be shut down after 7 years of operation. Kimmy Suraphongchai, the Country Manager of iflix Thailand, shared her experience with Freebie by Echo 360, a media platform with mobile voice advertising that failed after reaching over 300,000 subscribers in less than a year. Lastly, Associate Professor Dr. Kanittha Navarat opened up about what forced her to close her NAVA Education Company despite booming demand and after launching several franchisee language schools throughout Thailand.
Kalaya Kovidvisith, studied architecture at Chulalongkorn University and digital fabrication at The Massachusetts Institute of Technology. "I wanted to use technology – digital fabrication – to improve the way of constructing buildings in Thailand. Also, architecture is a man's world but technology might make it easier for women to work in this industry. That's why I tried to bring this knowledge back with me to Thailand. I set FabLab, a fabrication laboratory, at Thammasat University under the guidance of my MIT professor and with initial funding from the Thai government to buy machinery and essential fixed assets. We tried to develop knowledge locally and to appeal to factories and other firms that might want to use this technology. But we quickly ran into financial issues, as there was no recurrent budget to cover operations and no budget to hire anyone. I had to do everything on my own and convince all professors to have my curriculum into the university's standard classes. I survived for 7 years but then due internal changes, I had to close it."
Freebie, founded and managed by Kimmy Suraphongchai, let subscribers make free voice calls after first listening to a short voice advertisement specifically selected for them. "Thailand has about 70 million people and 90% of the population has pre-paid phone. The average phone bill is 200 Bath and the average person tops up about 4 times a month, 50 Bath each time." There is always a need to talk more but many people don't have enough credit on their phone. Freebie allowed registered customers to make up to 3 calls per day for up to 2 min per call.
"We set up in mid-2012 and launched after a year of research developing it. At its height, we reached 350,000 subscribers with Blog3-3about 100,000 calls made every day. But 2-3 months after launching, street protests started and went on for 6 months. The economy shrank for 1.5 quarter and the advertising market went down from +10% to -15% in one year. We had 300,000 people wanting to make calls for which we couldn't find sponsors and 50,000 people on the waiting list to join the program. At some point we couldn't sustain any longer because it was eating into our reserves so we had to shut Freebie down in February 2015. It was a very sad conversation with our employees."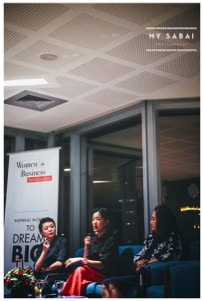 K. Kanittha Navarat was an English professor and served as president of the Association of English Teachers of Thailand. Encouraged by several friends and investors and her own desire to raise her kids in an English-speaking environment, she decided to open NAVA Education Company with a business partner in 2000.
The school offered English courses by native speakers for both adults and children and was the first one in the country to accept kids as young as 3. Around that time English became a compulsory subject starting from Grade 1 in Thailand and many Thai banks were acquired by international banking groups. Demand for English classes went up and NAVA soon opened additional branches in Bangkok and later in several major cities throughout Thailand through franchisees. "We had a concept where I would train teachers, design courses, and sell franchises. I managed to sell and open in several major cities and it went very fast. Looking back, there was a lot of demand but a short supply of teachers. It was difficult to recruit good native speakers and keep them engaged in the provinces. Some stayed 6 months and then wanted to move on. There were lots of cross-cultural problems between my franchisees and the teachers we supplied. And many franchisees didn't respect the rules of the agreements; sometimes they undercut salaries and many didn't pay royalties on time. We ran into serious cashflow issues and I had to sell two pieces of land to pay for operational costs."
What did I learn from it?
"After having to close FabLab, I cried and complained a lot," shared Kalaya. "Then I talked to my friends from MIT who had opened FabLabs in other countries and had also failed, and we decided to leverage that experience to build something better. So we changed the business model to diversify our revenue streams, leverage more partnerships to cut down investments costs, and changed the name from FabLab to FabCafe. We also operate as cafes and we run workshops for adults and kids as young as 3. We are a network of friends in different countries and we support each other so I am not on my own as I used to at FabLab. We don't know where it's going to go, but for now it's going well and we are happy. I wanted to change the way we construct and now we are starting to use digital fabrication in Thailand so that goal is partially accomplished."
In the case of Freebie, the very difficult external circumstances were probably the main factor that contributed to its failure.
"For me, as long as you did your best, you put 100%, then there are no regrets. If it didn't work out and you learned from it, then put more effort into the next one."
But not the only one. "I think we took to long to launch Freebie. We were trying to make it perfect", said Kimmy. "Now we follow a concept called Lean Startup by Eric Ries: "Build, Measure, Learn." If you launch something and you are not embarrassed by it, then you have launched too late. If you take too long to complete it, then you have lost too much time. You have an idea, quickly build it, get the data, measure it, and fix it."
"For me, as long as you did your best, you put 100%, then there are no regrets. It's still better than do it halfway and you still fail and you end up saying, 'I wish I did this, I wish I did that.' If it didn't work out and you learned from it, then put more effort into the next one," advised Kimmy.
"We probably expanded too fast," said K. Kanittha. "I should have closed some departments and some branches and laid off some staff. I hired my friends, my students, my colleagues, which was a terrible idea. I should have hired professionals and hired a legal advisor to know what to do with the franchisees. But even though I lost a lot of money, I have still benefited from it. I gained a lot of self-confidence, became a strong negotiator, and definitely had my kids learn excellent English, which is why it all started. And I learned that a business failure doesn't mean it's a personal failure."
"A business failure doesn't mean it's a personal failure."
The Women in Business Southeast Asia Series
The Series was born out of a desire to both celebrate the successes of women entrepreneurs in the region as well as to leverage this talent to nurture the next generation of entrepreneurs. It's about encouraging women to collaborate and support each other more and getting businesswomen to share more of their experience, wisdom, and lessons learned to inspire others. It is also about women becoming more comfortable dreaming big and being in leadership positions where they are still underrepresented across industries.